One small set back with dress production. I miss read my pattern and am making something that is WAY too big for me. One size up? More like 3. I'm a 32 bust, this thing is a 38. How did I interpret 38 as a 32? Don't ask...
But I
wiped
that egg off my face and went off to find another pattern. Luckily the world is full of vintage dresses, so fear not. I hopped on
ebay
and found these!!! I won them for a ridiculously low price... but wow! Gosh, I love every pattern in this lot! I don't have a large picture of all of
these because
I only just won the patterns today and they have not been shipped yet, but some of the pictures I was able to pull from the
vintage pattern wiki
and some of them are from the
ebay
page.
Butterick
8367 Magic to Make party/day dress. This will definitely need a
crinoline
, but I've been meaning to pick one up anyways. I think the sleeveless view C is my favorite here. It's more to my taste, but the puff sleeves on A & B are also super super cute even if they are a little young for me. The
envelope
on this one is way torn up, but the
seller
assures me all the pieces are intact.
Butterick
8078. The soft shirt dress. Mine has a 34 bust. This would be great in a lightweight cotton for spring, or jersey anyone? Have I mentioned that I love jersey? View B is a definite must make for me. Love the collar and those great sleeves. The sleeves sold this one for me. A is a little bit crazy with the fabric pattern, but the longer sleeves are nice too.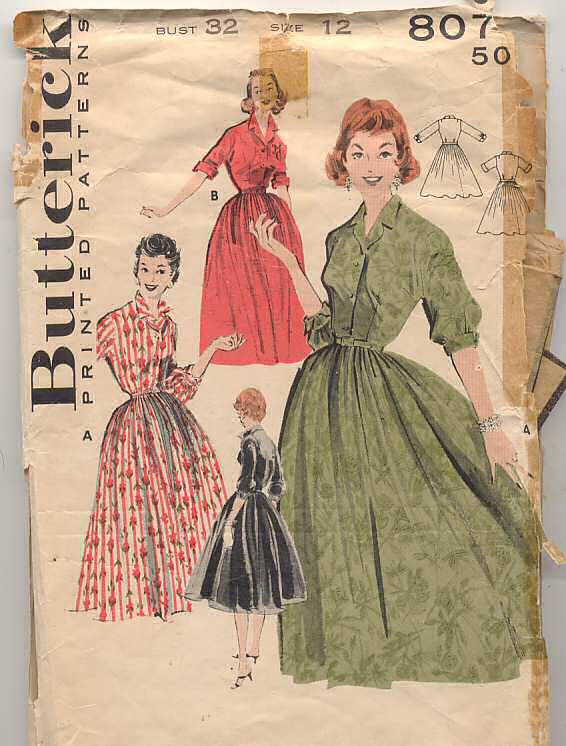 Advance 6260. This one is going to be way too big for me. Bust 44, so a definite resale or trade. If anyone is interested in it, it's a super cute shirt waist dress. Gosh, just look at those scalloped sleeves. Wish it was a little smaller, but I'm too lazy to re-draft this one in my size.
Simplicity 1260. Published in 1955. This picture is from the wiki. My pattern is size 14 and bust is a 32, which is totally spot on my size! I'll be making a muslin of this in case I need to make this a little more boob friendly. And it's obviously worth it to make a muslin in this. I mean, look at how happy these girls are to be wearing this dress? It's like euphoria in an envelope. I love the removable
dicky
and the great bodice shaping. I bought this whole set for this one pattern, so I'm
definitely
going to have this dress one way or another!
Simplicity 1553.
Mine's
a 34 bust. This is my first night gown pattern and it is so so cute. I swear my Aunt Donna had this exact night gown. I've even got a picture from
Christmas
morning 1973 to prove it. Wish I had a pajama party to wear something like this to. Satin would be so nice, or sweet lace. Silk would be nice too, just not in my budget. I actually think these are pretty sexy and I've seen
similar
styles in B
elk
. Plus it comes with a
panty
pattern. Awesome! Always wanted to make my own panties.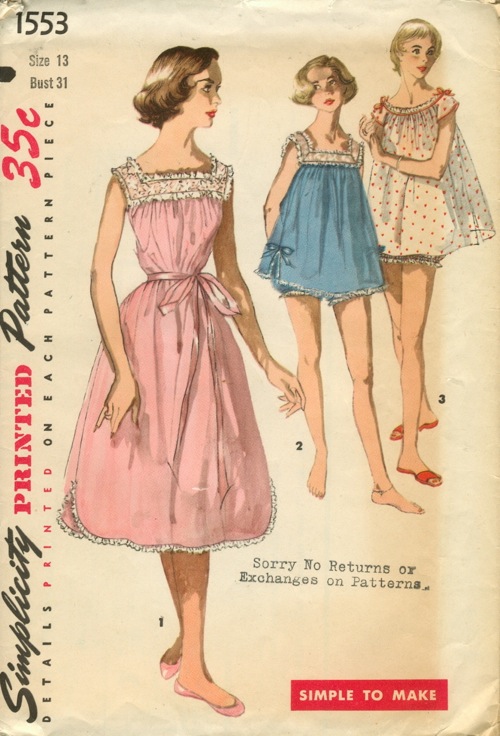 Butterick
6109.
Mine's
a 32 bust and again a perfect fit for me! In the auction I
actually
thought this woman was wearing
gingham
. She's actually got a cute polka dot pattern. I don't normally try to match fabrics to pattern
envelopes
, but this sweet red fabric is fantastic and I'm now officaly on a mission to find something similiar. Definitely prefer the scoop neck to the collared neck design here.
And finally
Butterick
7461. A lovely robe to go with my new night gown perhaps? It says it's quick and easy. Which should mean easy pattern editing if
necessary
. I think the little construction diagram in the lower left corner is pretty cute. I love how fitted this robe is. Totally unlike today's robes. I'm totally dreaming of terrycloth or
chenille
here. Something about a fitted bathrobe seems nice, but depending on how the pattern works out I'll probably end up going with wool. I like the short robe better than the long, so I'll probably end up with that one.
Overall very excited about my purchases. I've got another bid on some more of this lady's patterns so if that works out for me I'll be posting about those as well. I can't wait until these arrive so I can get sew sew sewing.