Sorry, I'm a bad Nancy. I did not put up any Vinspiration yesterday. I have no excuse, work just got in my way. So here's your weekly Vinspiration. It won't always be photographs. Today I've decided to show you some beautiful vintage gowns from Mariano Fortuny. You can start swooning now, trust me.
Quick history lesson first. Fortuny is the inventor of the "Delphos Gown." These dresses were produced starting in 1907 through the mid-40s. They were originally intended to be tea gowns to be worn at home by the ridiculously wealthy for private entertaining. As time went on they became more popular as evening gowns. I pulled this excerpt from the
Manchester Art Galley's
website.
"Working from Venice from about 1900, Mariano Fortuny (1871 - 1949) created one of the most enduring neo-classical "looks" of the twentieth century. Fortuny gained an early grounding in historic fabric patterning and design from his parents who collected antique textiles, and who encouraged him to involve himself in designing for the theatre. In these costume designs for the stage, he often looked directly to models from the Greek and Roman classical past, predating his fashionable clothing designs.
After 1910, Fortuny worked as a couturier, patenting a number of new techniques, including his famous pleating style for silks (which he made up into "Delphos" dresses in direct imitation of classical styles). He also invented a type of polychrome printing on thick pile velvets, and a system of rotary stencilling. Worked from Venice, he also opened "artistic" boutiques in Paris and Milan, and maintained outlets in shops such as Liberty & Co in London. His outfits were always aimed at an elite luxury market, but they have since proved to be timeless, still sought after and worn today."
Mrs. Conde Nast is shown wearing one of the gowns. The image is dated 1907. I love the empire waist, the fine beading around the waist, the delecate pleats. This gown is beautiful beyond words and so timeless. I'll note that these gowns were intended to be worn with coordinating cloaks, shawls, or jackets as you can see above, but most museum collections display them alone so they can look a bit simple. Still, there's an immense amount of beauty in their simple elegance.
This gown is part of the collection at the
Metropolitan Museum of Art
I believe and dates from the 1920s. It's constructed of silk and decorated with glass beads and a simple cording. The color is gorgeous and the cut is so flattering. This is one of my favorites.

Here is another example of the Delphos gown. I don't know about you, but I have no doubt of what period inspired this particular gown. It dates from somewhere between the 1920s to 1940s and it is part of the
Metropolitian Museum of Art's
collection. I tried to research how the pleats were made in these gowns and the best I can find is that Fortuny used a series of heated rollers to set the pleats. Apparently the pleats were not permanent and often the gowns had to be sent back to Fortuny to have the pleats reset if they got wet or if they became flattened out around the bum.
More fabulous gold colored silk here. Yum. I could imagine a vintage inspired gown based on this made from some Gold Dupioni Silk, though I think the pleats might have to be omitted unless you're really ambitious.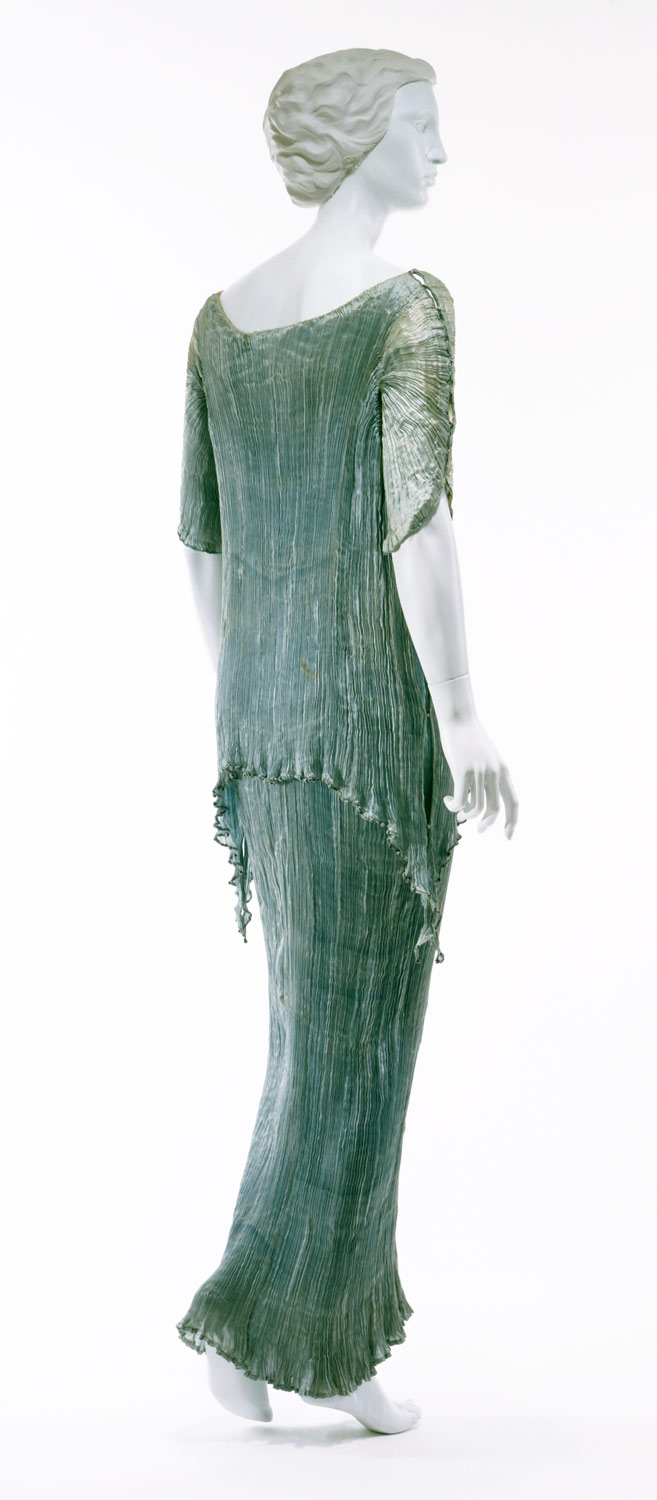 I can just image how these dresses looked as the wearer walked. The fabric must have flowed so elegantly around her. This color is just absolutely breath taking. This ensemble dates from 1934. It is not a skirt and top set, it actually has a long sleeveless underdress under the tunic top. This dress is also from the
Met's
collection.
And this is probably my favorite of the dresses I've posted today. The blue satin silk is spectacular and this one is for
sale
. It can all be yours for $12,000. You may have guessed that this is not in the $25 Vintage budget, but a girl can dream.... It dates from the 1920s and I just love the belted waist.
Here's a close up of the famous Fortuny pleats, so you can really get a look at them. Just imagine how something this tightly pleated would have formed around the body. The image also gives you a close up of the beaded detail down the side of the gown. According to the seller of this gown those beads are not just for decoration, but are also used to weigh down the dress because it is so light and airy. Heavenly!